I am getting some strange results for the end balance in the General Ledger report which makes no sense and would like some help on how to fix the problem. I have a liability account for taxes due code 202-000 that had a account debit move for 108,245.84 CRC during October 2023. Throughout the entire 2023 year there were no move on this account, hence the initial balance is 0 (cero), but for the end balance it shows 525,148.32 CRC which is wrong! Attached is a screenshot of the report just showing that particular account.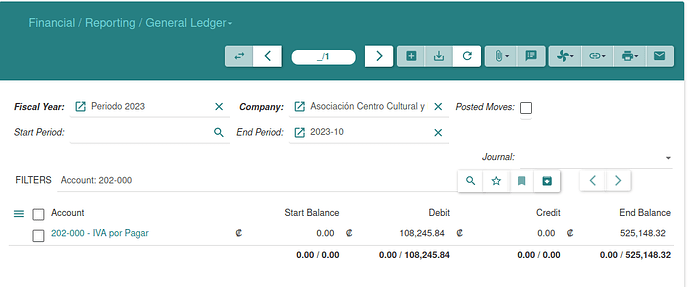 I filtered the report to show the results up the previous month (September 2023) and it produces a totally different end balance for the same account (359,149.17 CRC). If we take the end balance of September as the initial balance for October, the end balance for October doesn't add up neither 359,149.17 + 108,245.84 = 467,395.01
The reports produced above have all the accounting periods closed up to September 2023. So does anyone knows what could be the problem?