Hello ,
in the module "Financial" > General accounts > menu "accounts", i want to work with SKR03 Chart of Accounts chart but after activating this one i found 4 of them ,knowing that i just activated one SK03.
The problem is that the SKR03 has a huge amount of different accounts so it is ridiculous to try to choose from this lists of accounts because in Account Types we have now more than 500 accounts to choose from and in Accounts more than 4000!! And it's just because it is repeated 4 times and that's why i want to delete the duplicates one.
when i try to delete the other 3 SKR03 , there was an error tell me
The records could not be deleted because they are used by field "Parent" of "Account".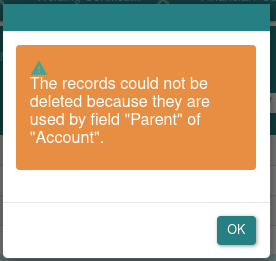 i want to know why there are 4 of "Kontenplan skr03 (Germany)" and what i should do to delete the duplicated versions!.
Thanks in advance