Rational
Quite often people would like to have more control over the layout and the information display in ListViews then the current pure table layout.
This includes being able to display some M2M or O2M fields.
This kind of view could be used for the addresses in the party view for example.
Proposal
Thanks to the swtich to GTK-3, we now have the opportunity to use GtkListBoxes.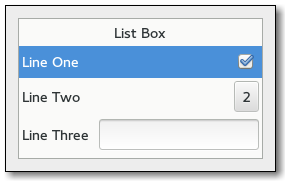 Which allows to have any kind of widget used in the rows displayed.
For sao, given the "flexibility" of the HTML it shouldn't be a problem to have the same kind of behaviour.
Implementation
In order to reuse a maximum of code from the form views some preliminary work must be done to have generci parsing of the XML and removing the use of record in the widget's method calls (by using the record from the view).
Afterwards we will add a new type of view (list-form or something like that) that will be specified using the form syntax.